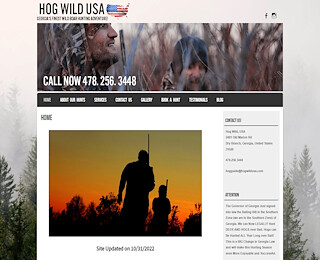 Hog Wild USA invites you to a unique life experience that will remain with you forever – hog hunting. We organize professional sessions of hog hunting in Georgia, offering you the opportunity to build lifelong memories.
What to bring to a hunt?
If this is your first hunting experience, you must prepare yourself with a handful of items, before any hunting session. Some of these include:
Impermeable rubber boots fitting for swamp walks
Rain gear, just in case the weather turns against you
The Georgia hunting license, according to the type of hunt you're looking for
Must-have backpack, capable of holding essential items like water bottle, flashlight, hunting knife, seat cushion, binoculars, etc.
A cooler for transporting the meat
Scent neutralizer – especially needed for hog hunting, knowing how sensitive these animals are to smell
Comfort items, including drinks, snacks, a camera, a rope, etc.
The list is by no means exhaustive. If you want additional details, you can always contact us and talk to one of our experts about it. We'll be providing the guns, ammo, and knowledge.
What is the best time of day to hunt hogs?
These animals are generally nocturnal, which means that the best time of day for hunting them is at night. You can also spot them during the day, which is why some hunting sessions start early in the morning, while others span during the entire night. Our expert trackers will ensure high-kill sessions, providing you with a well-rounded experience, unlike any other.
We offer several options for hog hunting in Georgia, depending on the time of day and the duration of the sessions you're looking for. You can bring your buddies with you, your kids, or your entire family, and we promise they won't be disappointed.
Are wild hogs dangerous?
They are as dangerous as any other wild animal trying to preserve its own life. Fortunately, you have nothing to fear. We use camouflage to surprise the animals and shoot them from a safe distance. All you need to do is relax, let your adrenaline rush invade your senses, and enjoy the experience.
Our professionals will guide the entire operation, and so long as you listen to their advice, everything will go smooth and easy. Wild hogs usually move in packs, which will make it that much easier to spot and shoot them. As soon as you fire, they will quickly disperse and attempt to run away. All you have to do is practice your aim and take them down as they flee.
Is hog meat safe to eat?
Yes, so long as you butcher and prepare the animal properly. We offer meat processing services in a licensed facility four miles from the hunting ground. The cost for their services is $100 with an additional $60 if you want your hog skinned, gutted, and quartered. If you want a trophy, we can help you with that as well.
Contact us, at Hog Wild USA, and join your first hog hunting in Georgia today! It will be unlike anything you've ever experienced before!
Hog Hunting In Georgia
Related Post
Hunting is a sport that anyone can enjoy. It is a great activity for men, women, and children as well as a way to spend time with family and friends. Going hunting together is one way to make lasting memories. There are many types of game that you could enjoy hunting down, but one of the most adrenaline pumping hunts is a hog hunt. Wild boar hunting in South Carolina has never been more popular. If you are interested in wild boar hunting in South Carolina, there has never been a better time to reach out to our team at Hog Wild USA. Our team can provide you with the ultimate hunting experience. Our hunts take place on over one thousand acres and are completely fair hunts. Take down a Russian boar and feel the rush of adrenaline fill your body. There is nothing quite like a wild boar hunting experience.
Items needed for a Boat Hunt
When going for a boar hunt, the number one item that you will need is a rifle or gun. At Hog Wild USA, we have an extensive collection of hunting firearms to choose from. We also carry ammunition and optics. At Hog Wild USA, we can provide you with everything that you need for a successful hunt. The following items are recommended for a boar hunt.
Proper Hunting Clothing – Camouflage clothing comes in very handy when hunting. In South Carolina, it is possible to hunt wild boars all year round. Dress accordingly to the weather and attempt to wear darker colors. You must wear hunter's orange while boar hunting. Make sure that your pants are rugged enough to handle outdoor conditions and can deflect parasites. A good pair of sturdy boots are also recommended.
Hunting License – It does not matter where you hunt, you will need a hunting license. Your hunting license must be valid in the state where you are hunting.
Two Way Radios – If you plan on hunting boar with friends, two high radios are highly suggested in case you get separated during the hunt.
GPS – In case you get lost, having GPS can come in very handy. However, GPS systems are not always reliable. Bringing along a compass and map can ensure that you find your way back from the hunt.
Hunting Knives – Hunting knives can come in handy in a number of ways on a boar hunt.
Seat Cushion – It is wise to bring a seat cushion for your hunting stand because you will spend quite a bit of time sitting in your stand.
Binoculars – A good set of binoculars can help you see wild boars before they ever see you. This gives you an advantage in the hunt.
At Hog Wild USA, we can provide loan equipment such as rifles and ammunition. Reach out to our team at Hog Wild USA to learn more information about our hunts. Contact us via phone or on our website, where you can easily book a hunt. Don't miss out on this exhilarating experience
Hog Wild, USA
478.256.3448
2481 Old Marion Rd Dry Branch, Georgia, United States 31020
View Larger Map
We welcome your comments!