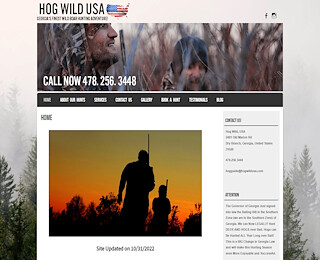 Hog hunting in NC is a unique, visceral experience that will stick with you for the rest of your life. At Hog Wild USA, we offer you an opportunity you can't refuse – intense hunting sessions under the guidance of leading hunting experts.
Get ready for hog hunting!
If you have never participated in a hunting session, you must prepare yourself for something truly unique and memorable. This involves primarily three things:
Get your family and friends ready – If this is your first hunting, you should share the experience with those close to you. As a father, you can take your kids with you for a thrilling and bonding experience, or you can share the ride with your buddies. In both cases, coming for a seasonal hog hunting is like a holy pilgrimage for the avid thrill seeker.
Pack your bags carefully – You will need plenty of items with you, especially during a prolonged hunting session that may last several nights and days. Make sure to bring a water bottle, several snacks, scent neutralizer to mask your presence, bug spray, a towel, a hunting knife, etc. You can check our website for a more comprehensive list of items, or contact us directly for instructions and advice.
Don't forget your camera – Going hunting with your buddies or your family will be a memorable experience, and you'll want to immortalize every moment of it. Having a camera with you will allow you to take snapshots of the most critical moments of the hunting.
Boar hunting prices
A day session of hog hunting in NC costs $250, starting early in the morning. We also offer combo prices, including:
$650 for a two-day hunt
$850 for a three-day hunt
$1050 for a four-day hunt
These combos include night hunting as well, lodging included. Our lodging services include a five-people offer for $100 per night, with $25 per person when the number of participants in larger than that. We can accommodate up to 13 people if necessary.
If you want to process your prey, our professionals will skin and gut the hog for $60, while a near red meat processor can process the animal for an additional $100. If you want to know more about pricing or hunting details, contact us now!
How dangerous is boar hunting?
It is pretty dangerous if you are inexperienced, alone, and too courageous for your own good. Wild hogs are powerful and aggressive beasts and can quickly turn on you if you're too close and too reckless. Fortunately, our hunting sessions are entirely safe. You won't get in any dangerous closing distance to any of these animals at no point during the hunting, since our experts will guide your every move.
We offer safe, entertaining sessions of hog hunting in NC to both individuals and groups. If you're interested in participating, call us today and make a reservation. At Hog Wild USA, we offer you the opportunity to build everlasting memories with your friends and family. Contact us, and start creating your own unforgettable life stories!
Hog Hunting In Nc
Related Post
Spending time with our friends, family members, and even coworkers can be fun especially if you engage in exciting activities. Creating memories that last is always the ultimate bucket list. We have all enjoyed activities such as road trips, camping expeditions, and hiking explorations. And then there's hunting. Hunting gives you and your team the thrill of a lifetime.
If there is anywhere you would rather be for that team building, bonding or getaway; then it has to be a South Carolina hog hunting expedition. We at Hog Wild USA are always ready to make your hog hunting experience absolutely unforgettable. Whether you are a first-timer, solo hunter or you've come with a group; our hog hunting trips are accommodating and totally worth it.
 When is The Best Hog Hunting Season?
Wild hogs can practically be hunted any season of the year although some experts hold a belief that it is preferable when done immediately after the deer season. The prime months of hog hunting are between December and February which are the colder seasons.
 During this time, the hogs are out in the open for long in search of food. In terms of the best time of the day, pigs tend to shy away from the sun. Therefore, during sunny days, the late evening or early mornings are perfect.
 What are The Tips of Hunting with a Feeder?
To make your hunt more successful, you can use the following:
This ensures that food is dispensed at specific times as scheduled. Hogs love feeding. So, when they're constantly given food at a particular time, they will adapt to that schedule. Early nightly hours are advisable given the nocturnal nature of hogs.
The fact that hogs are omnivorous makes their food quite easy to find. Go for picks with a sweet smell. That way it will be easy to attract them your way.
A feeder light ensures that you can see exactly where the hogs are. Most of the time, the light is attached to the bottom of the feeder in a way that allows you to spot the hogs whenever they come to the feeder. Unfortunately, this approach may scare away the pigs. Go for a lighting solution that will alert you and not the hogs.
The flashlight ensures that you have a rough estimate of you're the location of your target through a detailed sweep of the area.
 Hog Hunting Expeditions
Wondering what to do with your family during the holidays? Or maybe you are looking for the perfect getaway activity for the weekend with your workmates or friends. South Carolina hog hunting is exactly what you need. At Hog Wild USA, we provide you with the most accommodating packages for an exhilarating hunting expedition.
Whether you an experienced hunter or not, our friendly guides will ensure you have a once in a lifetime experience. We also have hunting equipment like guns, optics, and flashlights for rental. Get in touch with us on 478-256-3448. We'll be happy to schedule your booking.
Getting in touch with nature is not something that many people seem to do anymore. There is no better way to get in touch with your roots than by wild boar hunting in NC. Wild boar hunts are a great way to get back out into nature and enjoy yourself. Plan a guys trip or a father son hunt. If you are going wild boar hunting in NC, don't hunt with anyone else than with Hog Wild USA. Our team can provide you with equipment, such as rifles and optics, to ensure you have the best possible hunting experience. We strive to provide memorable wild boar hunts at the lowest possible rates.
Top Equipment needed for a Wild Boar Hunt in North Carolina
You do not need a lot of equipment in order to enjoy boar hunting. Besides your weapon and ammunition, you need to remember to wear thick clothing that will protect your skin from parasites. Using bug spray is not recommended as it can alert the hogs of your presence. The following is a suggested list of items that can make your hunt more successful.
Binoculars – Being able to see your prey from a distance can give you the upper hand.
Seat Cushion – A seat cushion may sound like a silly item to bring on a boar hunt, but once you have been sitting in a hunting stand for a few hours you will be thankful you brought one along.
Scent Neutralizer – Animals can often smell you long before they see you. Cover your scent with a scent neutralizer.
Hunting License – You can't enjoy the thrill of the hunt without a hunting license.
Two Way Radio – In case you and your hunting party get separated, it is a good idea to have two way radios so that you can stay in touch.
What to Expect on a Wild Boar Hunt
When you book a hunt with Hog Wild USA, you can expect a thrilling hunting experience you will be talking about for years to come. Hunters will be able to roam a thousand acres of woodlands that are full of wild boars that are direct descendants of the Russian boar. Despite their short legs, boars are fast on their feet. Expect an exhilarating hunt full of excitement. The best time for scouting out wild boars to hunt is in the morning and evening. It is at this time that the boars will be most vulnerable. You can also expect to enjoy the beautiful natural views that North Carolina has to offer.
If you are ready for a wild boar hunt in North Carolina, there has never been a better time to contact our team at Hog Wild USA. We will go above and beyond the call of duty to ensure that you have the hunt of a lifetime. Our experts can provide you with tips and tricks that will help you achieve a successful hunt. Our team is ready and willing to answer any questions that you may have about booking a wild boar hunt with us.
Hog Wild, USA
478.256.3448
2481 Old Marion Rd Dry Branch, Georgia, United States 31020
View Larger Map
We welcome your comments!