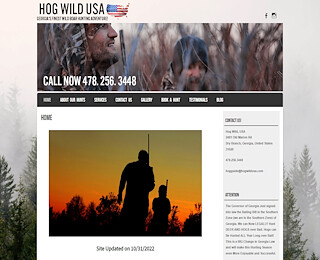 Going hunting can be an incredibly bonding experience between a father and his son and we, at Hog Wild USA, will help you create unforgettable memories. Prepare yourself for a unique session of boar hunting in Tennessee that will get you addicted to the thrill and adrenaline!
How dangerous are boars?
Hogs are currently among the smartest animals in the world and, combining that with up to 600 pounds of muscles and razor-sharp tusks, you get yourself a lethal beast. Close encounters are dangerous, especially when dealing with more aggressive specimens, including females with piglets. Fortunately, you won't have close encounters.
We will track down and kill the boars from afar so you can enjoy the experience without fearing anything. It's all about the thrill of hunting down these vicious animals just like our ancestors did, but with a plus of effectiveness and satisfaction.
Do hogs come out during the day?
Generally, wild hogs are most active earliest in the morning or late in the evening. Sometimes we can spot them during midday, but you'll have the best chances of encountering them during the night. Which is excellent, since night hunting has a unique charm to it, making up for a visceral experience.
If you're interested in participating in a hunting session, take your buddies and contact us today. You can come for one-day hunting, or opt for more extended periods, in case you're looking for a more fulfilling experience. Whether it's day or night, we ensure an unforgettable session of boar hunting in Tennessee, with plenty of shooting, kills, thrills, and tasty meals.
Can you hunt hogs at night?
Not only you can, but we also recommend it over day hunting. Hunting at night gives you a distinct advantage, as the boars will be more active, moving in larger groups, which will make them easier to spot and shoot. It's also important to mention that their vision isn't great at night and that they prefer slightly lighter areas, over the darker ones.
Color-wise, these animals have difficulties spotting green lights, which means they won't be able to see our green night hunting lights. All you need to do is relax, aim, and fire when ready. Our experts will make sure to guide you during the hunting session, allowing you to taste all the satisfaction and thrill of the experience.
What to bring on a hunt?
Aside from your positive energy and excitement, there are a few items that need to come with you at every hunt. These include:
A waterproof bag for snacks, water, flashlight, and other small items
Raincoat if necessary
Camo gear
Hunting knife
Scent neutralizer, especially effective against hogs
Waterproof rubber boots to protect against humidity and snakes
A cooler for meat transportation, etc.
You can find more suggestions on our website, so make sure to check it out! If you're ready for a boar hunting in Tennessee, grab your friends and family members, and reserve your spot! At Hog Wild USA, we offer you a once-in-a-lifetime hunting experience.
Boar Hunting Tennessee
Hog Wild, USA
478.256.3448
2481 Old Marion Rd Dry Branch, Georgia, United States 31020
View Larger Map
We welcome your comments!