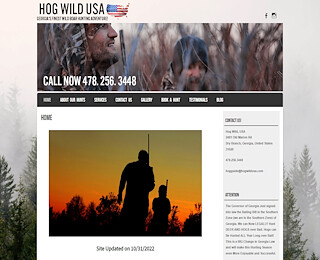 There is nothing quite like the thrill of deer hunting in North Carolina. The beautiful woodlands offer prime hunting locations where you can take down your next big kill. North Carolina is home to some of the largest white tail deer in the southeast. If you are looking for the best deer hunting in North Carolina, do not delay in getting in touch with our team at Hog Wild USA. We offer the best hunting of white tail deer for the best prices. We are proud to offer reasonably priced hunting trips so that hunters can pass on their love for hunting down to the next generation. Whether you are looking for a guys trip or a father son hunting excursion, our team at Hog Wild USA can meet your needs.
Suggested Items to Bring on a Deer Hunt
At Hog Wild USA, we can provide loaner equipment such as rifles and ammunition. Hunters may want to bring their own items, but we can provide night hunt mounted flashlights and optics. The following is a list of the most common recommended items that you should bring on a deer hunt.
Scent Neutralizer – Deer can smell you long before they see you. Having something to cover your scent will help give you an advantage while hunting.
Seat Cushion – You may find yourself sitting in a deer stand for quite a while before you spot a white tail. A seat cushion can help make you more comfortable during the process of the hunt.
Binoculars – Binoculars can be handy in spotting white tail in the distance.
Tips for Hunting White Tail Deer
The best place to shoot a deer that will take it down immediately include vital organs such as the heart or lungs. However, placing a shot in those areas is not easy. Before taking the shot, relax your body and breathe deep. Count to three if it helps relax you. The important thing is that you are not tensed up before taking the shot. Following this tip can help you nail the vital organs, which will take the deer down instantly. Not only will shooting in these areas prevent the animal from suffering, but it will also save you from having to track it down. Deer can still make an impressive distance after being shot.
Is Deer Hunting in North Carolina Expensive?
You would be surprised by how affordable deer hunting excursions in North Carolina are. Hunters can enjoy hunting one thousand acres of woodlands at the most affordable rate when they book a trip with our team at Hog Wild USA. The most expensive part of deer hunting is the costs of weapons and ammunition. Plus, many hunters use accessories in the field. Our team at Hog Wild USA provides the best prices on the most extraordinary hunting trips.
Anyone who wants to experience the thrill of deer hunting should contact our staff at Hog Wild USA. We strive to provide the ideal hunting experience. We can guide you through the basics of hunting white tail deer.
Hog Wild, USA
478.256.3448
2481 Old Marion Rd Dry Branch, Georgia, United States 31020
View Larger Map
We welcome your comments!