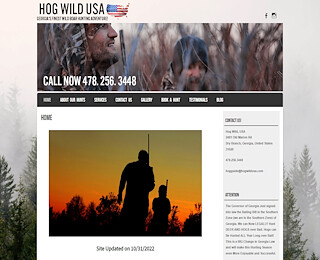 Hog hunting in NC is a unique, visceral experience that will stick with you for the rest of your life. At Hog Wild USA, we offer you an opportunity you can't refuse – intense hunting sessions under the guidance of leading hunting experts.
Get ready for hog hunting!
If you have never participated in a hunting session, you must prepare yourself for something truly unique and memorable. This involves primarily three things:
Get your family and friends ready – If this is your first hunting, you should share the experience with those close to you. As a father, you can take your kids with you for a thrilling and bonding experience, or you can share the ride with your buddies. In both cases, coming for a seasonal hog hunting is like a holy pilgrimage for the avid thrill seeker.
Pack your bags carefully – You will need plenty of items with you, especially during a prolonged hunting session that may last several nights and days. Make sure to bring a water bottle, several snacks, scent neutralizer to mask your presence, bug spray, a towel, a hunting knife, etc. You can check our website for a more comprehensive list of items, or contact us directly for instructions and advice.
Don't forget your camera – Going hunting with your buddies or your family will be a memorable experience, and you'll want to immortalize every moment of it. Having a camera with you will allow you to take snapshots of the most critical moments of the hunting.
Boar hunting prices
A day session of hog hunting in NC costs $250, starting early in the morning. We also offer combo prices, including:
$650 for a two-day hunt
$850 for a three-day hunt
$1050 for a four-day hunt
These combos include night hunting as well, lodging included. Our lodging services include a five-people offer for $100 per night, with $25 per person when the number of participants in larger than that. We can accommodate up to 13 people if necessary.
If you want to process your prey, our professionals will skin and gut the hog for $60, while a near red meat processor can process the animal for an additional $100. If you want to know more about pricing or hunting details, contact us now!
How dangerous is boar hunting?
It is pretty dangerous if you are inexperienced, alone, and too courageous for your own good. Wild hogs are powerful and aggressive beasts and can quickly turn on you if you're too close and too reckless. Fortunately, our hunting sessions are entirely safe. You won't get in any dangerous closing distance to any of these animals at no point during the hunting, since our experts will guide your every move.
We offer safe, entertaining sessions of hog hunting in NC to both individuals and groups. If you're interested in participating, call us today and make a reservation. At Hog Wild USA, we offer you the opportunity to build everlasting memories with your friends and family. Contact us, and start creating your own unforgettable life stories!
Hog Wild, USA
478.256.3448
2481 Old Marion Rd Dry Branch, Georgia, United States 31020
View Larger Map
We welcome your comments!