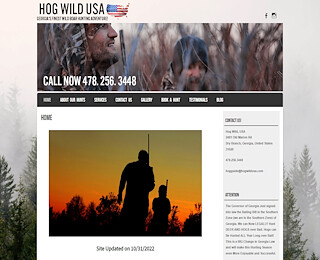 Getting in touch with nature is not something that many people seem to do anymore. There is no better way to get in touch with your roots than by wild boar hunting in NC. Wild boar hunts are a great way to get back out into nature and enjoy yourself. Plan a guys trip or a father son hunt. If you are going wild boar hunting in NC, don't hunt with anyone else than with Hog Wild USA. Our team can provide you with equipment, such as rifles and optics, to ensure you have the best possible hunting experience. We strive to provide memorable wild boar hunts at the lowest possible rates.
Top Equipment needed for a Wild Boar Hunt in North Carolina
You do not need a lot of equipment in order to enjoy boar hunting. Besides your weapon and ammunition, you need to remember to wear thick clothing that will protect your skin from parasites. Using bug spray is not recommended as it can alert the hogs of your presence. The following is a suggested list of items that can make your hunt more successful.
Binoculars – Being able to see your prey from a distance can give you the upper hand.
Seat Cushion – A seat cushion may sound like a silly item to bring on a boar hunt, but once you have been sitting in a hunting stand for a few hours you will be thankful you brought one along.
Scent Neutralizer – Animals can often smell you long before they see you. Cover your scent with a scent neutralizer.
Hunting License – You can't enjoy the thrill of the hunt without a hunting license.
Two Way Radio – In case you and your hunting party get separated, it is a good idea to have two way radios so that you can stay in touch.
What to Expect on a Wild Boar Hunt
When you book a hunt with Hog Wild USA, you can expect a thrilling hunting experience you will be talking about for years to come. Hunters will be able to roam a thousand acres of woodlands that are full of wild boars that are direct descendants of the Russian boar. Despite their short legs, boars are fast on their feet. Expect an exhilarating hunt full of excitement. The best time for scouting out wild boars to hunt is in the morning and evening. It is at this time that the boars will be most vulnerable. You can also expect to enjoy the beautiful natural views that North Carolina has to offer.
If you are ready for a wild boar hunt in North Carolina, there has never been a better time to contact our team at Hog Wild USA. We will go above and beyond the call of duty to ensure that you have the hunt of a lifetime. Our experts can provide you with tips and tricks that will help you achieve a successful hunt. Our team is ready and willing to answer any questions that you may have about booking a wild boar hunt with us.
Hog Wild, USA
478.256.3448
2481 Old Marion Rd Dry Branch, Georgia, United States 31020
View Larger Map
We welcome your comments!